Today we will provide an easy explanation. For people interested in watching TV channels via IPTV on SmartTV devices.
First

. you must download the SMART IPTV application
Smart IPTV on Android TV and Amazon Fire TV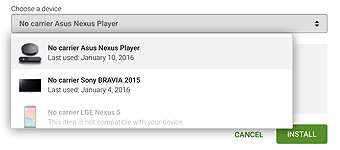 Android TV application version is now available in Google Play.
Follow this link to install the app. If it's not compatible with your device in Google Play, it means your device is not Android TV.
You can still try to install it on your device by downloading the latest APK presented below, but you should not expect it to work on just any non-Android TV set-top-box. Android 5.0 is required.
Please also check Media formats and codecs, supported by Android platform. If your stream doesn't work in the app directly, it means it is not supported by native Android codecs, so you will have to use external app (check remote control commands below), which does.
Important 1! You need to install one of the media players available in Google Play to play videos in your playlist. Some examples are VLC, MX Player etc. You can also use it as an external player for your streams.
Important 2! The Android version of the application is still in very early development stage, so it still doesn't have all the feature present in the app on other TV platforms. All these features will be added gradually over time.
If you would like to test new features as they appear, you can apply for the Beta test by following the instructions given at this link. Turn on your TV (switch to Android TV home screen) and install the app from PC using your Google account by clicking

Download it on Google Play

link after you apply as a tester on the link provided above.
Second,
after installing the application you must login to it and get the MAC address of the device.
You can get your MAC address here by device type
After you get the MAC address. You should get a link to M3U or TXT
siptv.eu/mylist/
You can get free M3U links from here
https://www.iptvday.net
or
contact me for a paid service
my e-mail :
iptvday.net@gmail.com